Dear Friend of St. Isidore's,
During the summer months at St. Isidore's, we typically take time to review the last school year and start plans for the upcoming year.  This summer, we are taking the preparations to another level by welcoming two new members, Maria and Robbie, to the St. Isidore's staff.  Maria will be responsible for adult faith formation and Robbie will be in charge of ministry and evangelization. It has been our pleasure to have Maria and Robbie here and I hope you enjoy learning a little about them in this months E-Newsletter.  It has been through your generosity, prayer and support that we were able to find such qualified individuals for us to add to our team. 
The summer however, has not been all work and no play.  A group of the St. Isidore's permanent community attended a Royals game in June.  Having an active permanent community is one thing that makes the St. Isidore's Student Center so unique, and we are thankful for it.
I pray that your summer has been filled with as many exciting changes and blessings as ours has.  We are looking forward to August when the students will return, and hope that it will bring many of you back to your home here at St. Isidore's for a visit. 
Blessings,
Kimberly Fund
Stewardship Director
Welcome Maria Leiker
Director of Adult Faith Formation
Maria first became involved at St. Isidore's when she attended K-State as an undergraduate student, and it quickly became a second home for her. After graduation, she was very thankful to serve on the St. Isidore's staff as a campus minister from 2010-2014. While on staff, she had the opportunity to participate in Catholic Extension's Young Adult Leadership Initiative, completing a Masters Degree in Theology from the University of Notre Dame. 
Maria enjoyed working in ministry tremendously, but she transitioned to being involved as a permanent community member in order to spend more time with her husband and son. During this time, she taught mathematics at Manhattan Area Technical College. 
Now she is overjoyed at the opportunity to return to work at St. Isidore's as the Director of Adult Faith Formation. In this role, Maria will coordinate the RCIA program, help with marriage and baptismal preparation, and work with a variety of other education and formation opportunities. "I am looking forward to working with the wonderful students, permanent community, and staff members that make up the St. Isidore's family. This is a such a vibrant place where we can journey together in faith; and the work that we do at St. Isidore's wouldn't be possible without the involvement and support of our permanent community, alumni, parents, and friends." 
Welcome Robbie Jennings
Director of Ministry and Evangelization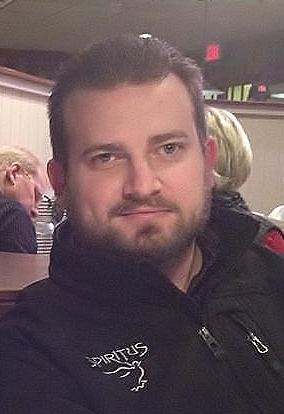 From California to Ohio, Rome, Minnesota, Wisconsin, Illinois and a walk across America, Director of Ministry and Evangelization, Robbie Jennings has now found another state, Kansas, to add to the list of places to call home. 
Robbie grew up in southern California and from there he has had many opportunities which have led him around the country.  
Robbie received his Masters in Theology from Franciscan 
University in Ohio.  During his time there, he spent four months in Rome with a study abroad program. This prepared him to be the Director of Religious Education for four parishes in Minnesota.  After his time in Minnesota, he became a missionary in Wisconsin with SPIRITUS, a retreat team program for youth, for three years.  During one of his summer breaks with SPIRITUS, he participated in a program called 'Walk across America'.  Robbie and his team mates spent three months walking across America, Monday thru Friday, stopping on the weekends to share the word of God.  
The last nine months Robbie resided at The Community of St. John Monastery in Illinois. During his time there, he learned of the opportunity here at St. Isidore's and is now a part of our team.  Robbie expressed that he is already enjoying how community minded and welcoming everyone has been.  "I am excited to be a part of a Catholic community where I can help inspire young adults to live a good Catholic life!"
St. Isidore's K-State Day at the K
This Summer St. Isidore's held their second annual K-State Day at the K.  Nearly 30 friends and family members of St. Isidore's traveled to Kansas City, Missouri to watch the Royals take on the Houston Astros.  Even though the game didn't end with a W being displayed, a good time was had by all.  
KSU Basketball Alum, Jordan Henriquez, throwing the first pitch.  
Photo Credit:  Quenten Troyer 
Wichita Social Event
Do you live in the Wichita area?  Are you interested in hearing more from Fr. Mike, Fr. Bob and several students about what is going on at St. Isidore's?  
Please join us August 17th at the Wichita Country Club for a chance to meet other St. Isidore alumni in your area and to have an opportunity to chat with our current Chaplains, students and Stewardship Director.  
This event is hosted by Rich and Hannah Kerschen.  Please RSVP by August 12th to Rhonda, 316-268-0200 or

This email address is being protected from spambots. You need JavaScript enabled to view it.

.